Excursions with Dive Paradise
Available Trips
A variety of curated experiences to enhance your dive vacation!  
Excursions in Cozumel and beyond with Dive Paradise
Photo Gallery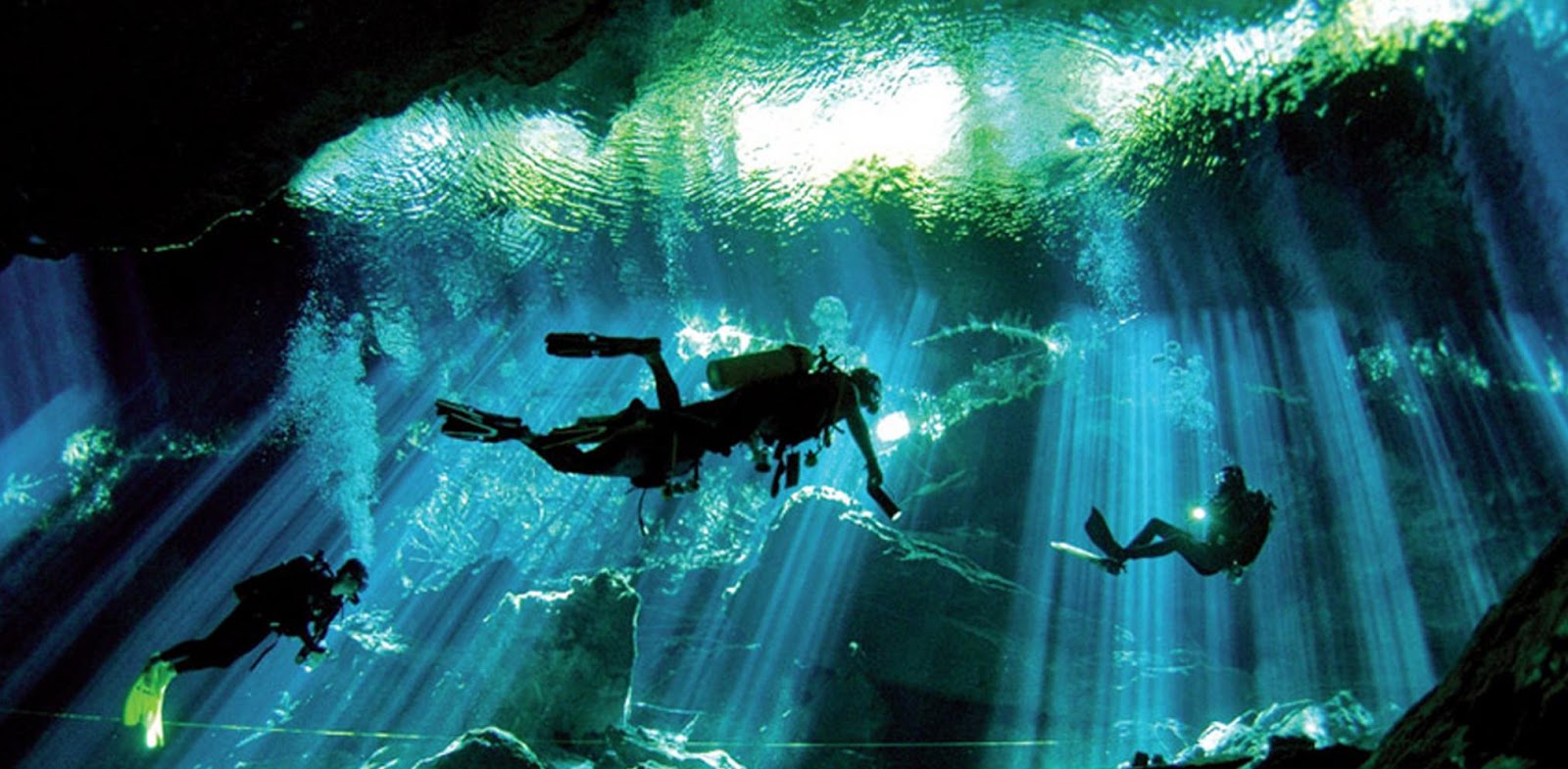 Cenote Diving
Guided Cavern Tours!
Come experience the magic of the Cenotes of the Mexican Caribbean!  The Yucatan peninsula is full of sinkholes (that the Mayan call Cenotes), opening a window into an intricate and diverse series of underworld passageways, flooded with crystal clear freshwater and very decorated with speleothems.
Pricing and Reservations
Cenote Diving
in advance:  $180 USD 
walk-in:  $3420 MX Pesos
Private Deep Sea Fishing 
Professionally guided trips on a custom built fishing vessel!
Dive Paradise is proud to invite you aboard "Kay Kib" a custom built 34' fishing charter in Cozumel, MX. The crew are very friendly and have loads of experience, so you can be confident you will go where the fish are in safety and comfort. They will do everything within their power  to ensure you have a memorable fishing adventure!
Pricing and Reservations
Fishing Excursion Charters
$USD for 1-6 people on the boat:
$480 for 4 hours (half day)
$580 for 6 hours
$680 for 8 hours (full day)
Add 1-2 more passengers at $70 per person
Whale Shark Snorkeling Tour
Whale Shark Snorkeling Tour
Dive Paradise makes it easy to add this bucket-list adventure to your Cozumel vacation
Limited Season: mid-May through mid-September
Your snorkeling boat bobs serenely on the calm ocean. Excited, the captain of the lancha gestures toward an E E E-NORMOUS set of dominoes moving slowly through the blue-green water.  It's Rhincodon typus, the gentle giant called the whale shark.   Here you are, smack in the middle of the world's most striking phenomenon of marine biology.  Aquatic elephants on parade!  And you will have multiple opportunities to jump in the water with them!
Pricing and Reservations
Whale Shark Snorkeling Tour
advance:  $190 USD
walk-in:  $3620 MX Pesos
Bull Shark Encounters & Mama Viña Wreck
Bull Sharks and Wreck Dive
Premium Tour with 5-Star PADI Divemasters
Limited Season:  Nov 15th to Feb 15th
Every winter, female Bull Sharks migrate into the warm waters of  Playa del Carmen, giving divers the opportunity to interact with these beautiful Queens of the seas as they swim gracefully around you.  A close encounter will forever change your opinion about sharks. Be ready for one the most thrilling dives of your life!
Pricing and Reservations
Bull Sharks and Wreck Dive Tour
Price: 
in advance:  $170 USD
walk-in:  $3240 MX Pesos